When it comes to handy garden items the "must have" list is longer than you'd think, and it can be a daunting task deciding what you need for each job.
But there are a few key things that every gardener really should have in their kit, and here are our top 5 picks to get you started…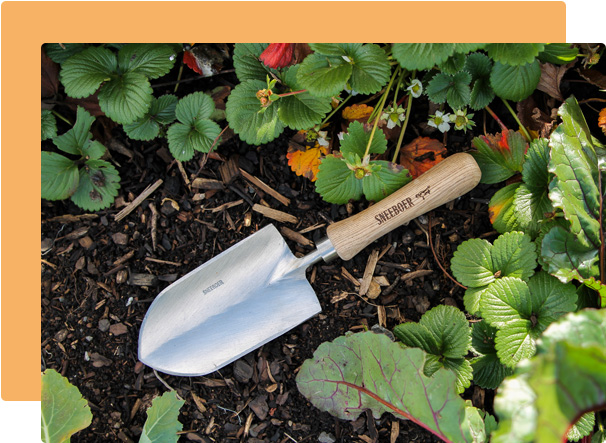 1. A sturdy trowel
Essential item number 1 has to be a trowel. Generally a multi-use hand tool, trowels are perfect for digging, planting, scooping, transferring plants, mixing and more.
They come in all shapes and sizes – some have deeper scoops to allow for lifting more soil, some have marked measurements for accurate digging depths, and some are narrower for transplanting young plants and delicate work!
2. A versatile hoe
One of the most useful tools in your garden kit has to be the hoe. Long or short handled, these handy tools are exceptional for preparing the soil for planting and easily and effectively dealing to nasty weeds.
Again, these tools come in different shapes and sizes for different tasks, so you may need more than one in your tool kit!
3. A good pair of gloves
Save yourself from filthy hands, torn nails, cuts and scrapes with a quality pair of gardening gloves. Your hands tend to bear the brunt of most gardening work, so it's a smart idea to set yourself up with the right gloves for the job. Lightweight gloves are great for delicate planting, weeding and general work, heavy duty and long-sleeved gloves are great for pruning, thorn resistance and rougher tasks. Don't forget about little hands – we have a range of kids gloves for eager garden helpers!
4. Reliable pruners
When you notice a stray branch poking out or a plant that needs a tidy up you reach for a pair of pruners. Blade quality and ease-of-use are two important factors to consider when choosing the right pair, but so is knowing which type you need. Bypass pruners work like scissors and are great for trimming green, soft wood and making cuts close to the bud, whereas Anvil pruners are the tool you need for cutting back dead wood.
5. A quality hose
Not often top of mind when thinking about essential garden tools, but a quality watering system is a must in any NZ garden. Hozelock, a well-established and respected supplier of top quality garden hoses and accessories, have a good range of everything you need to set yourself up…or replace your old and tired hose system. Or if worry-free watering when you're away is what you need, check out the Iriso drip-feed irrigation systems. Simple, affordable and extremely efficient they save you time and money and minimise water waste.