Posted by by the Gubba Team on 25th Nov 2019

Scratching your head for the perfect gift for a gardener who has everything? Or perhaps looking for a lovely adornment for your own home, bach or shed? One of our quality weathervanes could be just the ticket!
A weathervane, or wind vane, is an architectural ornament that combines both practical function and decoration. Traditionally placed on the highest point of a building and used to tell the direction of the wind, these days they feature as more of a decorative embellishment in the garden or home.
Not a recent invention, the weathervane (according to Wikipedia) was independently invented in China and Greece around 2nd century BCE. An effective and important measurement of the weather conditions, weathervanes were widely used by shipping fleets, fishermen, farmers, Armies and Navies.
From elaborate designs to simple arrow pointers, since their creation, weathervanes have been proudly displayed on everything from church steeples to prominent city buildings and humble homes and barns.
How does a weathervane work?
Weathervanes are carefully designed to effectively catch the breeze and evenly distribute airflow on either side of the vane, rotating the body and allowing the pointer or front of the wind vane to point towards the direction that the wind is blowing.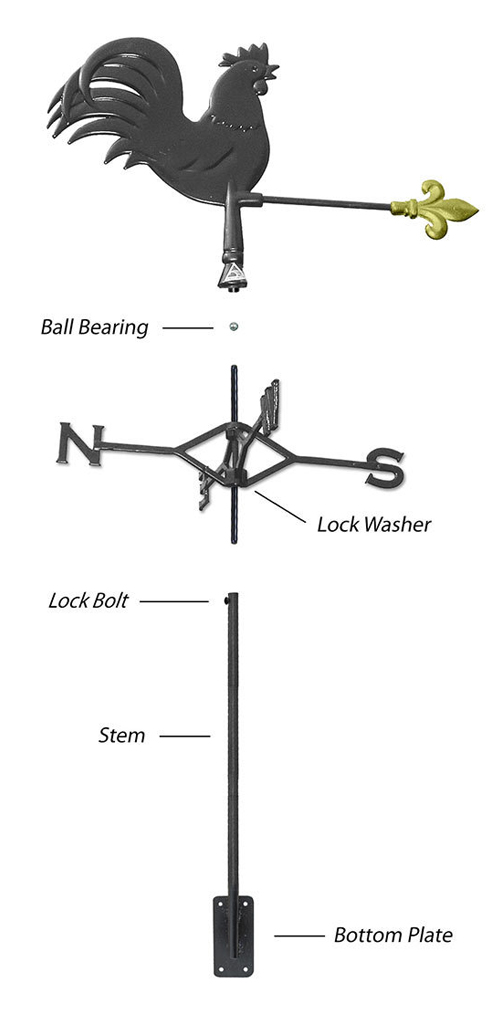 How are they made?
Gubba weathervanes are proudly Made in New Zealand and handcrafted from premium quality aluminium and brass using a traditional sand casting technique. Finished with black powder coating for protection against the harsh NZ climate, and to give a lovely finish highlighting the intricate details of the designs, our weathervanes are rust free, solid and excellent value for money.
Our weathervanes are compromised of the following components - main body and pointer of the vane, North, South, East and West points of the compass, a stem and welded base plate for easy installation. The provided ball bearing ensures smooth running movement.
13 weathervane designs in our range
Without a doubt, the classic Rooster weathervane is the top-selling favourite with our customers. But with many Kiwis being mad-keen fishermen it's not hard to understand why the Snapper and Trout are close seconds. With 13 designs in the range, there's something to appeal to everyone!
Most of the designs feature a classic brass fleur-des-lis as the pointer, but take a close look and you'll spot the cheeky mouse with the Cat design, the fly-hook on the Trout, and the tiny fish on the Snapper, Whale and Marlin.
Our designs are:
The weathervanes are nicely packed in a cardboard gift box and shipped FREE to New Zealand addresses.