Posted by by the Gubba Team on 30th Jul 2021

Skaza is a design and manufacturing company based in Slovenia, specialising in the creation of sustainable, eco-friendly home & garden products. Sustainability is at the core of their vision and mission - they are striving to set a new trend for the plastic industry. We are so pleased to be bringing Skaza's range of Organko bokashi bins to NZ shores for the first time!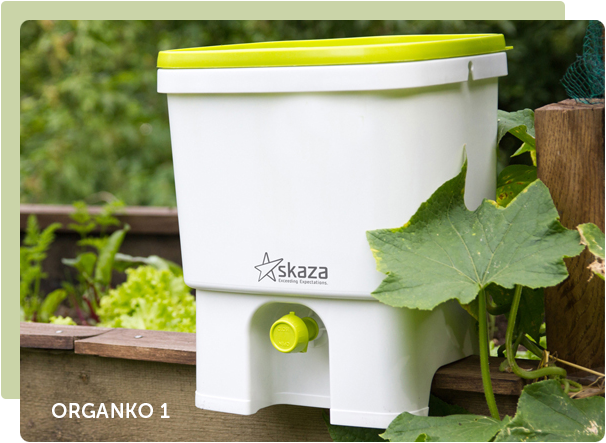 Skaza began by identifying some of the biggest challenges our society and planet are facing, and started to develop unique solutions to help address these issues. One pressing problem is poor waste management. The amount of waste currently going to landfill is unsustainable for our planet - methane released from landfill is a greenhouse gas contributing to climate change, causing untold damage to our environment.
In light of this distressing issue, we'd all like to strive towards a zero-waste lifestyle! Skaza's Organko bokashi bins are designed to help us do just that. Bokashi bins are a convenient, effective way to reduce your waste output. Not only that, using a bokashi bin provides you with lots of amazing benefits too.
All of Skaza's bins are manufactured using recycled plastics, and are designed to last the distance. Their latest bin, the Organko 2 Ocean, also tackles the issue of plastic in our oceans - it's made from recycled fishing nets that have been hand-picked from our coastlines and seas!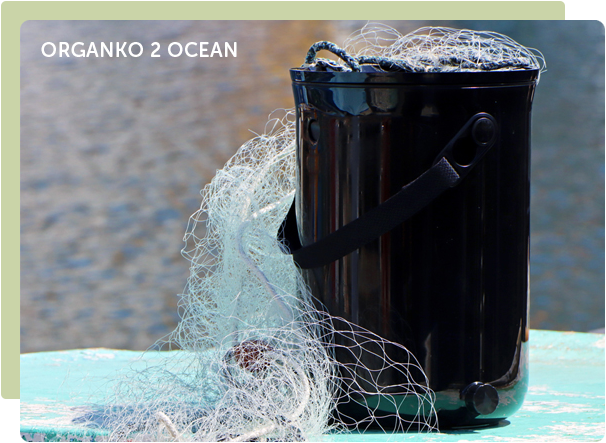 Bokashi bins work by turning kitchen waste into nutrient rich compost through fermentation. The process works by using natural, beneficial microorganisms (sprinkled on as a bran or a liquid spray) to initiate the fermentation process. Unlike traditional composting methods, where you have to wait for waste to decay, a bokashi bin 'pickles' your kitchen scraps. This makes it up to 50% faster!
Along with this, organic waste that has been fermented retains essential nutrients that would normally disappear during decay. This creates a top-quality compost and liquid fertiliser for your garden. You can also put almost anything in your bokashi bin - even traditionally non-compostable foods like meat, dairy, small bones & citrus! Once fermented, your bokashi bin can be emptied into your compost, where it helps to speed up the compost process, or buried in your garden.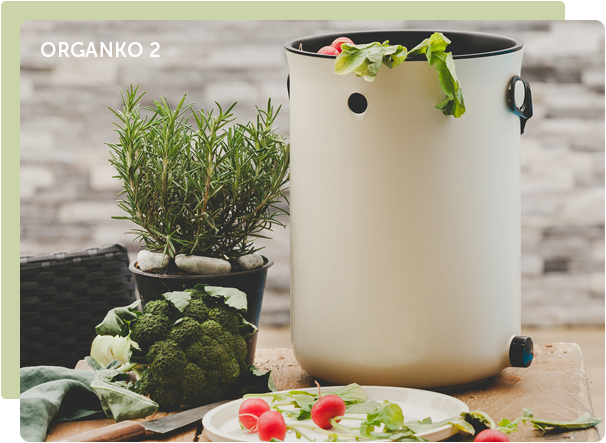 The Skaza Organko bokashi bin range has 3 options: the larger Organko 1, the sleek and sophisticated Organko 2, and the Organko 2 Ocean (which has the same design as the popular Organko 2, but is made from recycled fishing nets). The Organko 2 is a proud winner of the prestigious Red-Dot Design Award, a credit to it's outstanding design quality! You can also purchase all of the bin models in a set of 2, for continuous composting.
Skaza's Organko bins are real stand-out products for sustainable living. Composting your kitchen scraps is a great way to reduce your landfill waste, and it is made that much easier with a bokashi bin. Plus, who knew a bin could look so good! Find out more about each of the Skaza Organko ranges below.