Posted by by the Gubba Team on 7th Aug 2019
What's a Hori Hori? Great question! It's a multi-purpose hand tool that can be used as a trowel, a weeder, a knife, a pruner and the list goes on. Without a doubt, it's one of the handiest additions you could make to your tool kit.
Let's just start by saying that when you first see the Hori Hori there's an element of "whoa that's a serious tool" combined with a "wow that's pretty cool". There was definitely more of the "wow that's cool" by the guys in our office when we unpacked our first shipment of these tools.
Hori Hori - it's all in the name
Legend has it that the Hori Hori originated in the mountainous regions of Japan and while you could be mistaken that it looks more like a weapon (channelling Crocodile Dundee "That's not a knife, this is a knife!"), it was actually used for harvesting vegetables.
The name is derived from the Japanese verb "to dig" - Hori. The classic Hori Hori knife features a strong, razor-sharp blade that's serrated on one side, a strong wooden handle, and a tough stainless steel blade that is often polished to a mirror finish. The blade lengths can vary but in general, are around 17cms or 7 inches. There are many makes and brands available these days, but Japanese-made knives, like the Nisaku in our range, are as close to the original form of the blade as you'll get.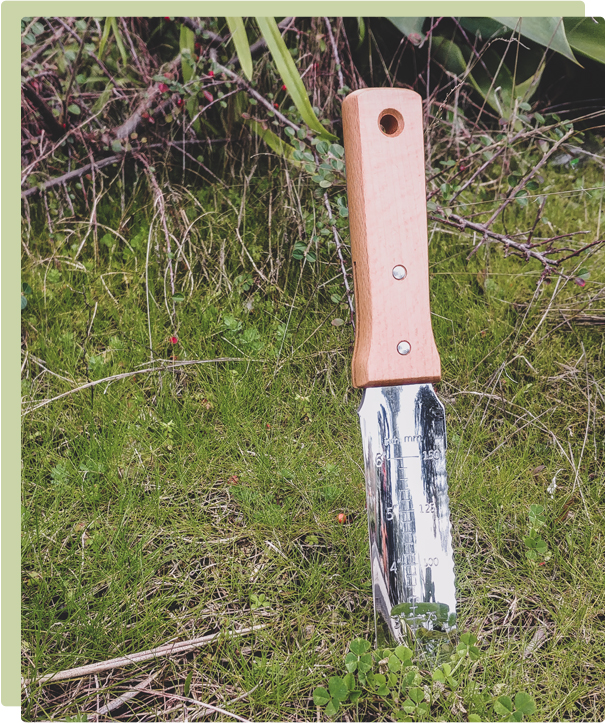 What is a Hori Hori knife used for?
Certainly the main attraction of this hand tool for gardeners is its multi-purpose uses. If you just had a Hori Hori knife in your tool belt and nothing else, you'd be able to achieve most tasks. But it's not limited to the garden. Essentially it's a fabulous tool to have on hand for fishing, hunting and camping too - or anywhere that you need a super sharp and reliable blade for cutting and digging.
In the garden, the Hori Hori combines the best elements of several tools. The concave blade serves as a slim trowel, ideal for digging holes, transplanting, potting plants and marking out seed rows. The serrated blade edge makes light work of digging into tough or rocky soils. The Nisaku 170mm blade available in our store also features mm and inch markings for measuring planting depths.
As a weeder, the sharp, strong blade deftly gets into tricky places to pry out weeds and slices through roots with ease. Look out dock weed, this little beauty will quickly deal with you!
As a cutting tool, the Hori Hori is ideal for splicing plants, dividing bulbs or perennials, pruning or sawing smaller branches, and can even serve as a small hand axe or machete if you need to hack at a particularly tough weed.
Features:
When it comes to quality stainless steel garden tools, Japanese steel is some of the best. In our range, you'll find the Nisaku 170mm Hori Hori Knife featuring a wooden handle, a handy drill hole for hanging on the pegboard, and a sheath to protect the blade - and you from the blade - when it's not in use. These are not cheap and cheerful tools, they are top-quality, purpose-designed, and built to last through the toughest of garden jobs, where cheaper and lesser quality tools would easily break.
The slightly smaller and lighter Nisaku Mini Hori Hori Knife with a 120mm blade features a plastic handle and is more portable than the larger blade. Still manufactured from the finest quality stainless steel, the blade is scratch and rust-resistant. Easy to clean and with proper care will stay razor-sharp for years to come.
Convinced that you need one, or at least that you want one? Time to shop...
- Nisaku Hori Hori Knife 170cm Blade